Our Mission Statement
Welcome to Illinois English Bulldog Rescue (IEBR). IEBR was formed in 2009 to find homes for purebred English Bulldogs. IEBR rescues dogs from shelters and puppymills and accepts dogs from owners who for any reason can no longer provide a home for their bully. The bulldogs that come through our rescue program are seldom in "perfect" condition in terms of health, temperament or both; however with a little love, medical attention and time, rescued English Bulldogs make great companions.
IEBR does not find dogs for people – our mission is to find great people for wonderful dogs.
Illinois English Bulldog Rescue is dependent on the donations of our supporters. We are now a nonprofit 501(c)(3) tax exempt organization which means that Your donations are Tax Deductible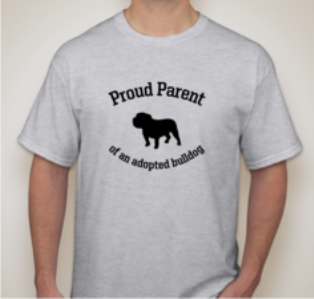 PROUD BULLY PARENT SHIRT $15 includes S&H to the US